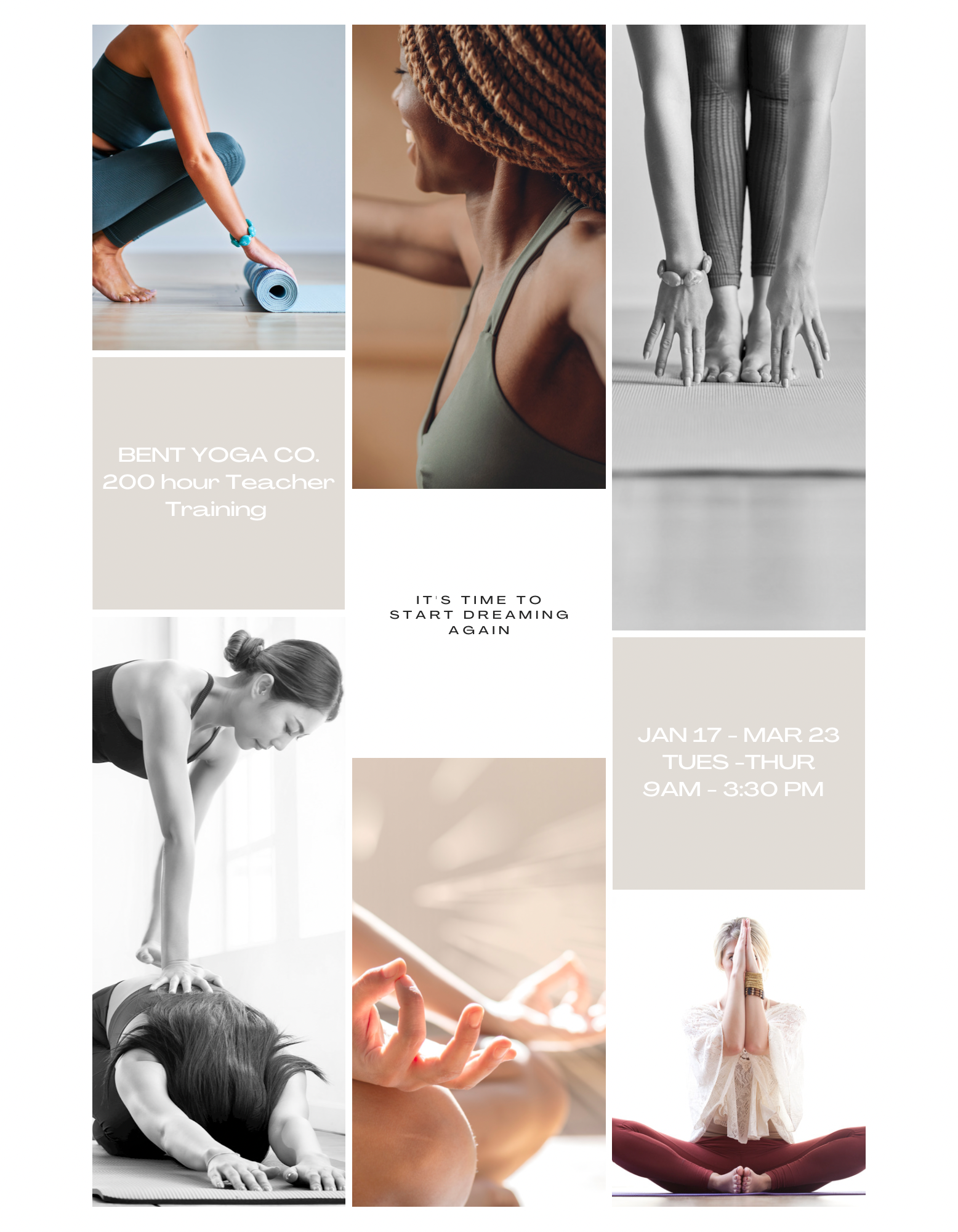 BENT yoga co.
UPCOMING
200 hour YOGA TEACHER
TRAINING
Winter 2023, Jan
. 17 – Mar. 23, 2023
Weekdays Tues, Wed, Thur.
9AM – 3:30PM
Are you ready to be inspired, to make new friends, to deepen your understanding of yoga and to have a positive impact on your community?  
This is the program you've been waiting for. In this comprehensive program, you will learn how to use & teach yoga as a tool to live a healthier, more balanced life, how to teach inclusive, empowering, adaptive yoga & how to communicate effectively on & off your mat. Our course curriculum will consist of:
Asana, Pranayama and Subtle Body, Meditation
Anatomy, Physiology, Bio-Mechanics
History, Philosophy, Ethics
Teaching Methodology, Professional Development, Practicum (Practice Teaching)
PROGRAM DETAILS: 
Type: Inclusive Yoga Teacher Training (Hatha, and Power Vinyasa)
Location: Bent Yoga Co.
Lead Trainer: Shelley Barquist E-RYT® 200, YACEP®
When:
Weekdays
Schedule: Tues, Wed, Thur 9am – 3:30 pm
Tuition:  BLACK FRIDAY Special (if paid in full prior to 12/1/22, discount applied at checkout): $3000
Regular price: $3200
No-interest payment plans are available.
$500 non-refundable deposit required to reserve your space.
Refer a friend and receive $100 off.
On sale now! https://clients.mindbodyonline.com/classic/ws?studioid=904693&stype=41&sTG=22&prodId=105223
Reach out today to learn more about this unique program, or come to class and we'll share more information!   [email protected]
Be the first to hear about promotions, events, & specials!